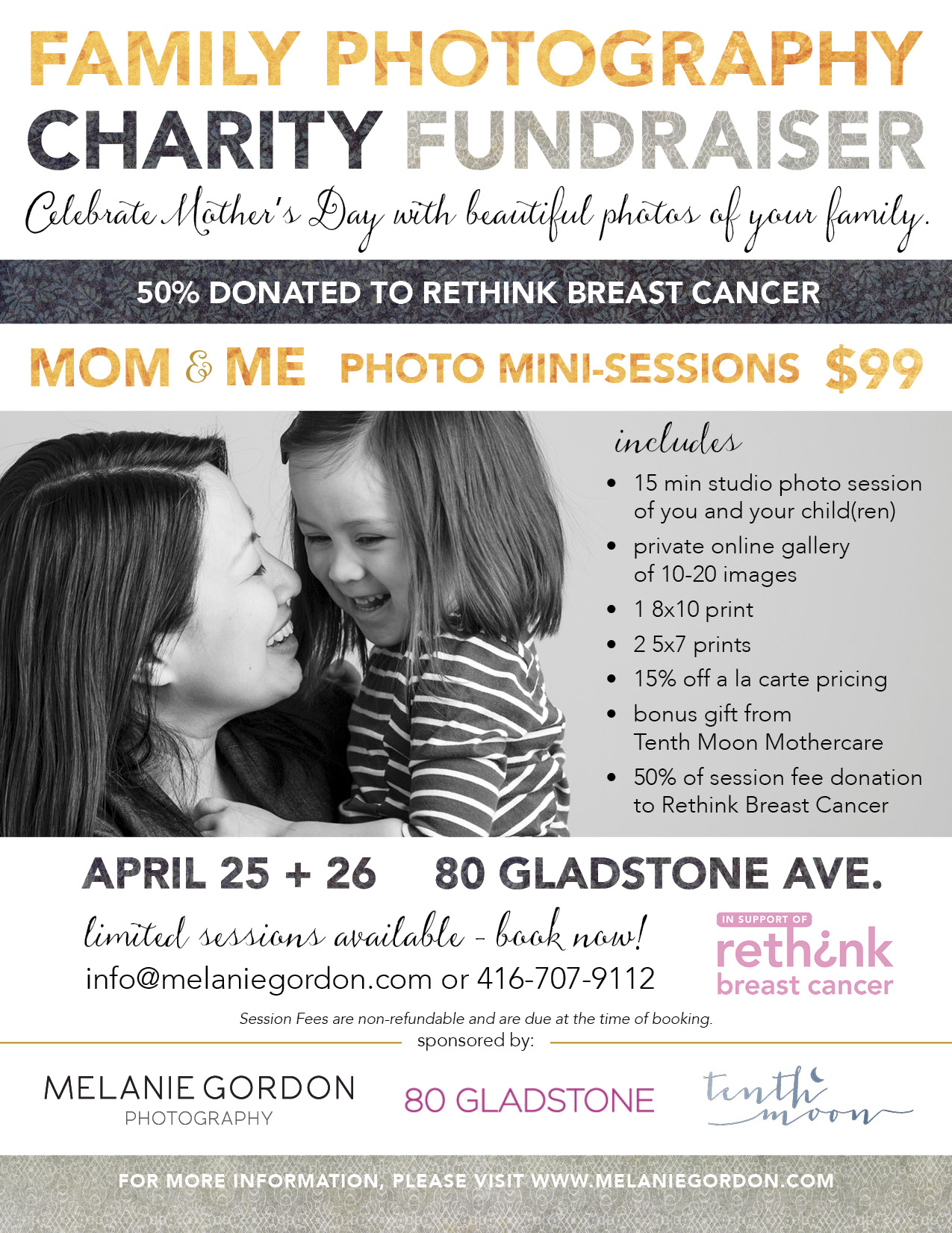 Hi everyone, I'm finally jumping into the future with my very first blog post!I have been working on organizing a fundraising event that I'm really excited about.
It's a "Mom + Me" Family Photography Fundraiser for Rethink Breast Cancer. This is a cause that is close to my heart. In 2012 I was diagnosed with breast cancer. As a new mom, going through treatment was hard. Rethink Breast Cancer is an amazing organization that offered support to me through this difficult time. I am now at a point where I want to give back!
On April 25 and 26 I will be offering mini-portrait sessions for families for $99 and donating half to Rethink Breast Cancer. I only have a limited number of spots available, so please book now to make sure you get one.
Celebrate Mother's Day with beautiful photos of your family.
50% donated to Rethink Breast Cancer
April 25 and 26
80 Gladstone Ave., Toronto
Limited sessions available – book now!
info(Replace this parenthesis with the \'at\' sign)melaniegordon.com or 416-707-9112
MOM + ME MINI PHOTO SESSIONS $99
Includes:
15 min studio photo session of you and your child(ren)
private online gallery of 10-20 images
1 8×10 print
2 5×7 prints
15% off a la carte pricing
bonus gift from Tenth Moon Mothercare
50% of session fee donation to Rethink Breast Cancer
(Session fees are non-refundable and are due at the time of booking.)

About Rethink Breast Cancer
Rethink is continuously pioneering cutting-edge breast cancer education, support and research that speaks fearlessly to the needs of young (or youngish) women.
This event is generously sponsored by:
80 Gladstone:
A place where boundaries dissolve, teachers and students become friends, knowledge is shared, health & wholeness are nurtured, music is enjoyed, and community flourishes. It's Diane Bruni's intention to be of service to people on their healing journey, and to provide the community with a personalised holistic yoga experience in a small and nuanced setting.
Tenth Moon Mothercare:
A Toronto-based postnatal care package service that bundles and delivers all the essentials a new mama needs, whether she's having her first baby or her fourth. Natural, healing + nutritious! Every mother who books a Mom + Me session will receive a jar of Tenth Moon Lavender Mineral Salts, perfect for a calming, rejuvenating soak in the tub.